The new RAM 1500
game changer
The RAM 1500 is the only full size, American made Pickup Truck that goes beyond anything most premium mid-size utes can deliver. If you want to tow more, carry more, move more, see more, and enjoy more, the RAM 1500 Pickup Truck provides a vastly superior solution to ute buyers.
Download Brochure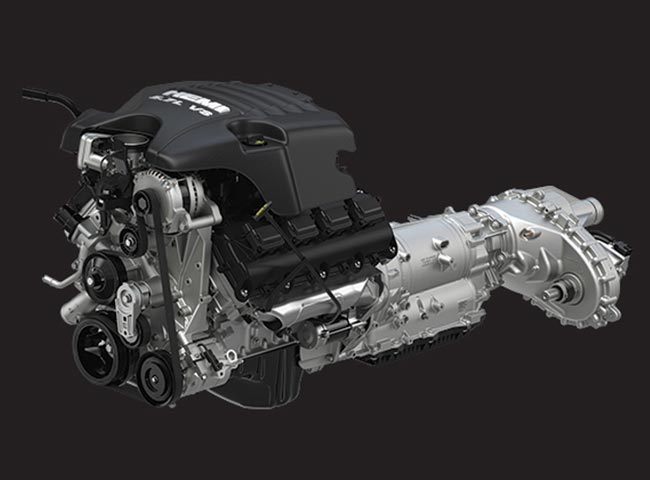 Best in-Class Power
The RAM 1500 Pickup Truck offers the only V8 Hemi engine in its class, and is without a doubt the most powerful. The V8 Hemi delivers 291kW of power and 556Nm of torque, while delivering the unmistakable V8 rumble to announce your arrival.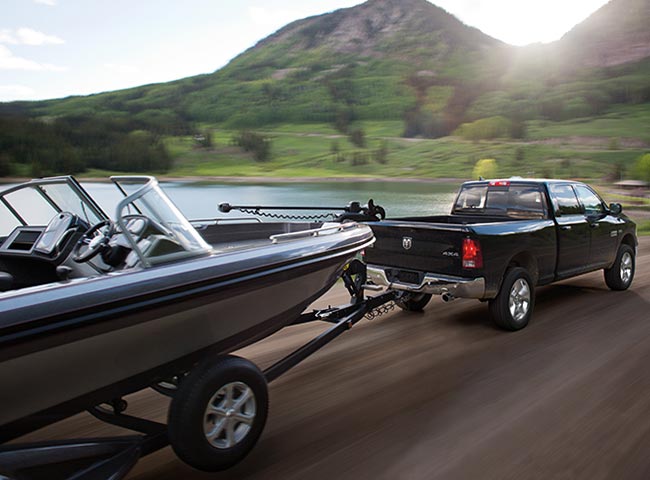 Best In-Class Towing
4.5 Tonne max towing! That's a whole tonne more than any ute in its class! With a maximum braked towing capacity across the V8 Hemi-powered range of up to 4.5 Tonnes#, nothing comes close to the RAM 1500 when it comes to towing.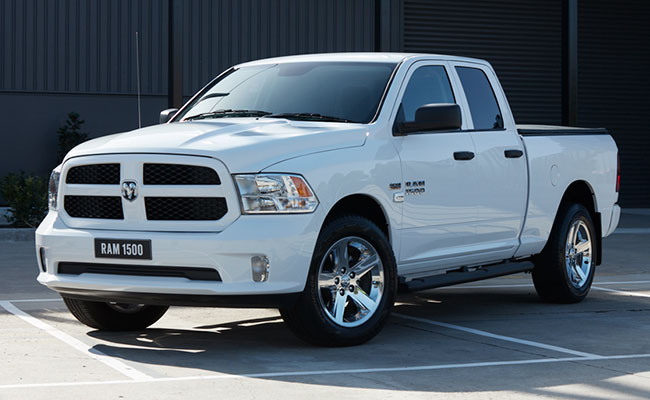 RAM 1500 Express
4X4 Quad Cab
Unrivalled capability, built for any challenge
Standing out for exceptional style and value the Express is designed and built with performance and functionality at its core. With a durable interior that will withstand the toughest conditions, combined with a massive 6'4" cargo tub, the Express is equipped with plenty of space to accommodate both work and play. The Express standard tub will take a full-size pallet with ease and you'll still have space left over, thanks to the cargo tub length of almost 2 meters (1,939mm), and a width between the wheel arches of 1,295mm. No corners have been cut, no sacrifices made. Just one smart package that's been purpose-built with the flexibility to undertake any challenge. The RAM 1500 Express, will impress!
Download Brochure
Express Key Features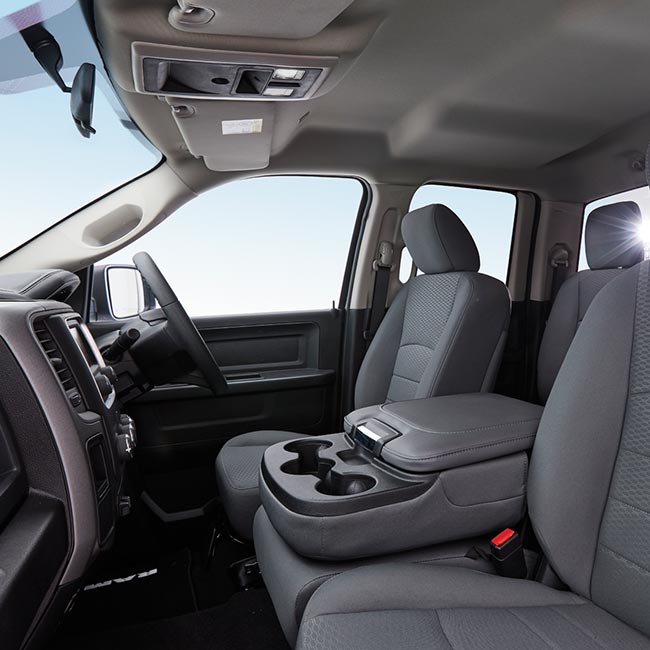 Interior
5-Seater Quad Cab
Durable Cloth Interior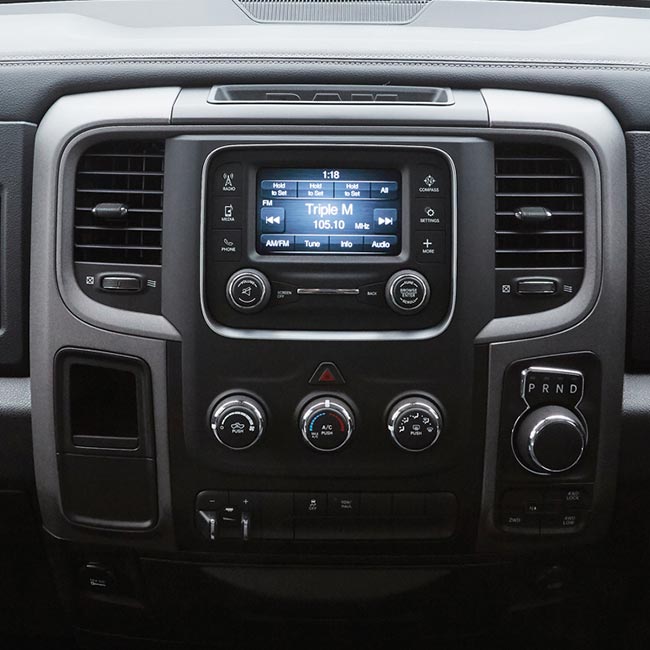 Convenience
UCONNECT 3 with 5" Touchscreen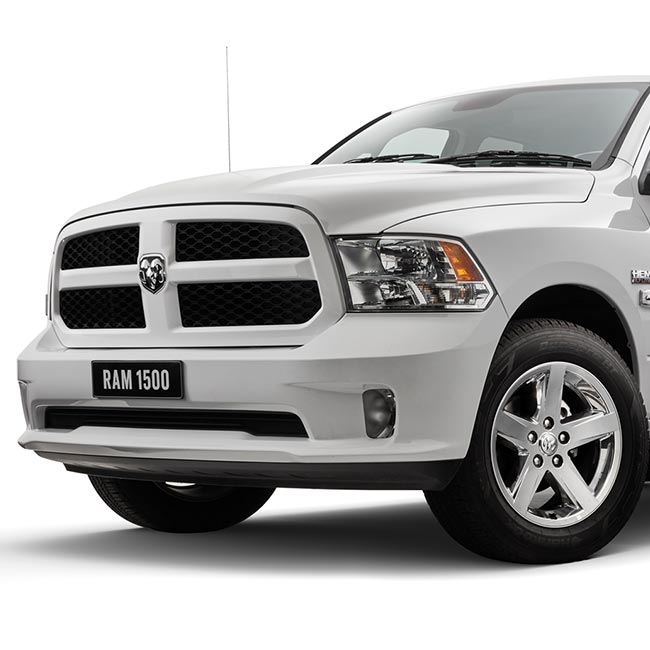 Exterior
Colour Coded Exterior
Black Cab-Length Tubular Side Steps
Fog Lamps
20" Chrome Clad Aluminium Wheels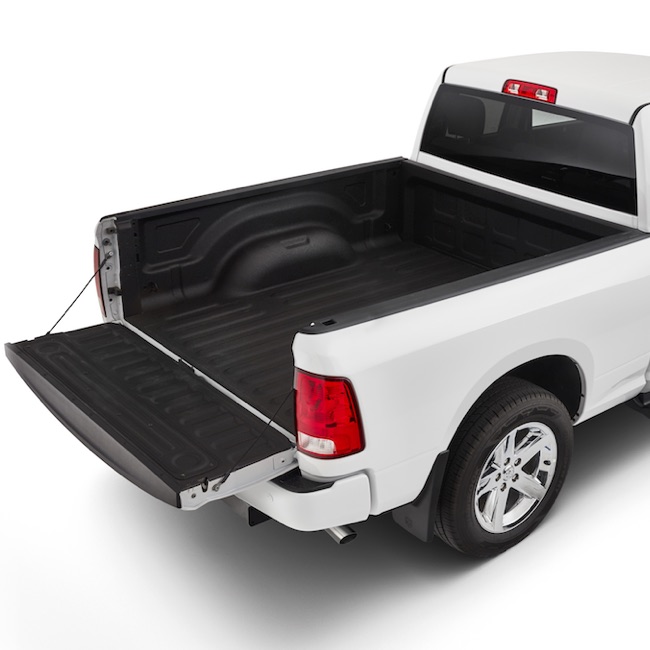 Capability
6'4" Cargo Tub
Up to 4.5 Tonne Max Braked Towing # with Trailer Brake Control (with V8 Hemi-powered 3.92 Axle ratio)
845Kg Payload †
121L Fuel Tank Capacity
Interior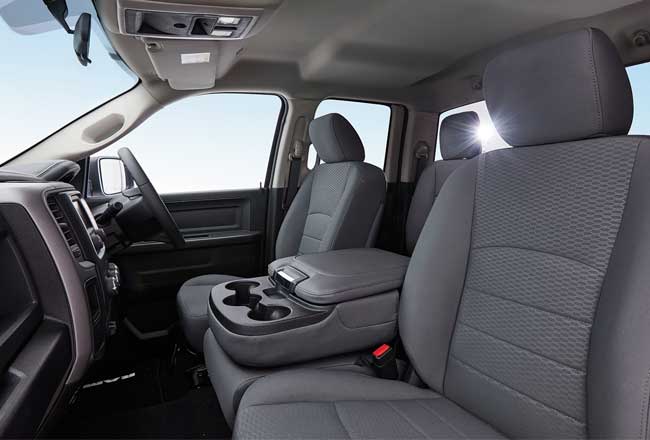 Express Quad Cab
Designed to take on the toughest conditions, the 5-Seater Express Quad Cab features plenty of room for the family with durable cloth interior front bucket seats with central storage and a rear bench seat with under seat compartment storage. Other convenient features include heated door mirrors, tilt steering column, Bluetooth, an auxiliary 12V power outlet and more.
Download Brochure
Best in-class cargo space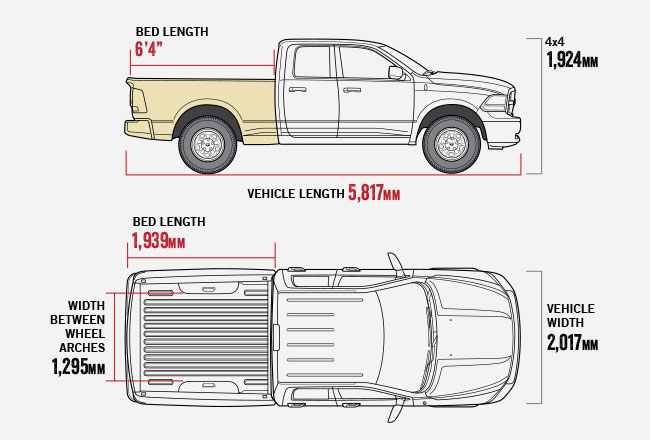 Express 6'4" TUB
The 1500 Express standard tub has a whopping 6'4" Cargo tub, delivering a load length of almost 2m long (1,939mm) and just over 1.6m wide (1,295mm between the wheel arches), allowing for a full size pallet with ease, along with plenty of left over space. No 5 seater ute can give you a bigger cargo bed than the Ram 1500 Express. The standard spray-in bed liner, load tray illumination and locking tailgate further enhance usage. The Exclusive Rambox® Cargo Management system is available on 1500 Express Black Pack vehicles as standard for those looking for secure storage bins integrated into both sides of the tub.
Download Brochure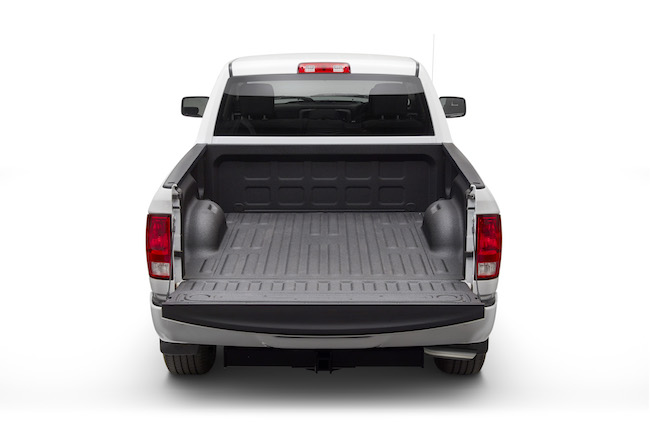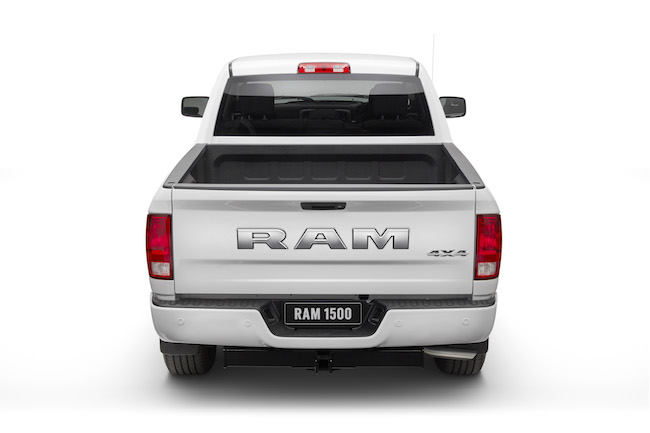 Ram 1500 exclusive features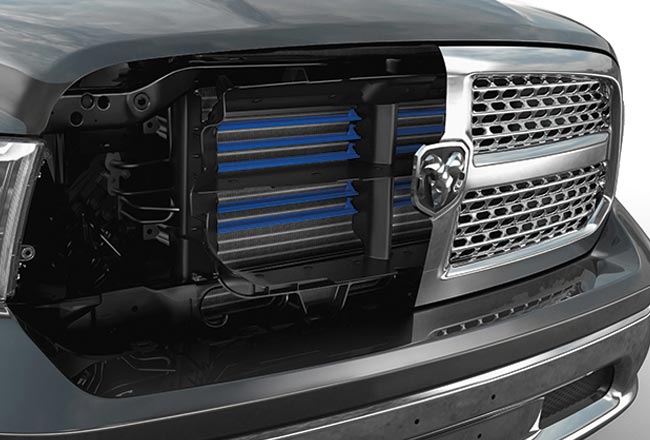 Active grille shutters
The RAM 1500 range breathes on its own! It comes standard with Active Air Grille shutters, which block front-end airflow openings to reduce drag while maintaining optimal engine temperatures. Reduced drag helps improve efficiency. These shutters open and close automatically, based on various inputs from the vehicle. For example, when a vehicle is travelling at highway speeds and producing moderate engine temperatures, the shutters are closed, which directs airflow around the vehicle to reduce drag and improve efficiency. When the vehicle is operating in heavy stop-and-go traffic or pulling a trailer, the shutters remain fully open to allow air to flow into the engine compartment for optimal engine cooling.
Download Brochure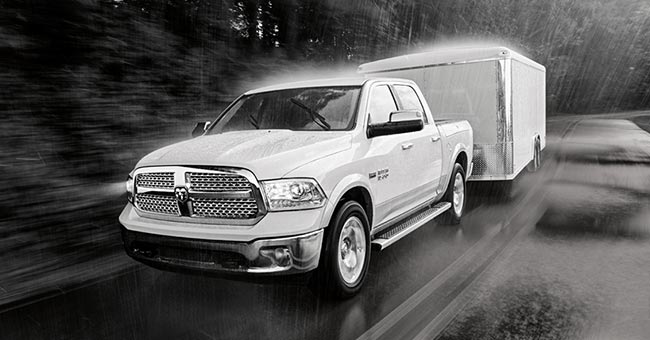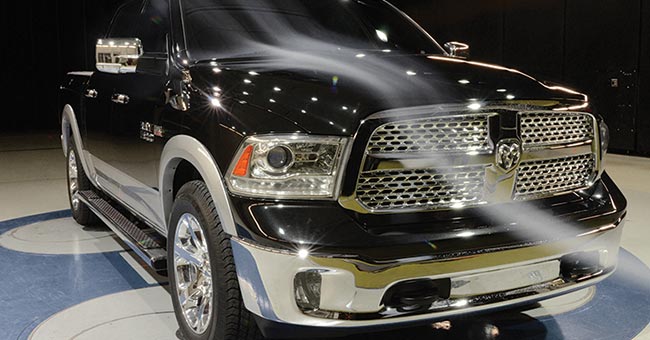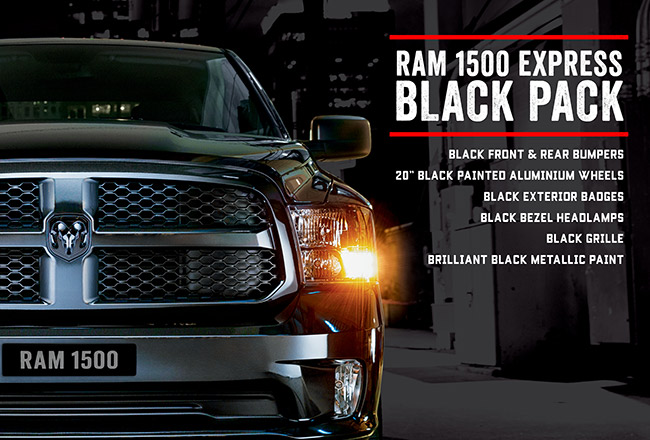 1500 Express black pack
Dressed to impress
The Ram 1500 Express Black Pack is packed with all the class-leading features of the Express model and then dressed to impress. Dark and handsome the Black Pack features a host of black accents. 20" black painted rims, black badging, black bezel headlamps, black grille, black front and rear bumpers, and brilliant black metallic paint. Available with the Rambox® class-exclusive cargo management system as standard, no matter what your needs the Black Pack will deliver in style.
Download Brochure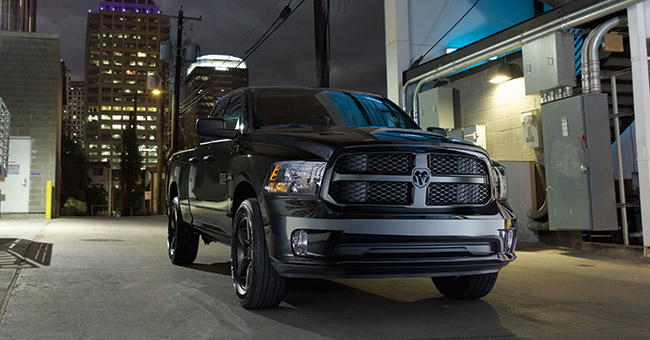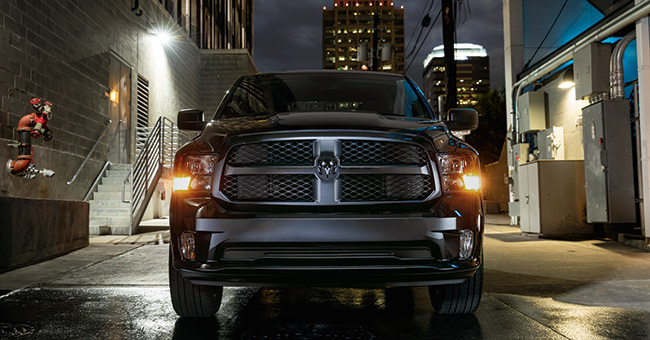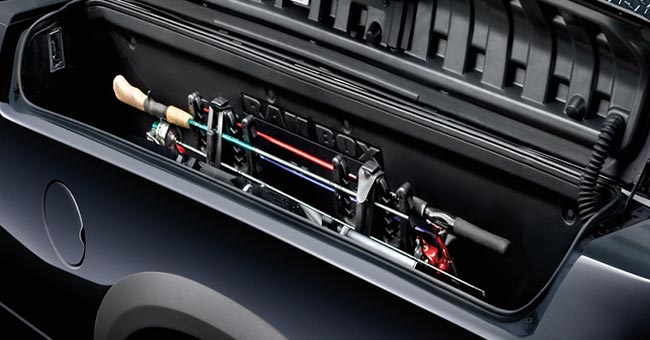 Rambox® Cargo
Management System
More than just a toolbox
The RAM 1500 Express Black Pack range comes standard with the class-exclusive RamBox® Cargo Management System. It's more than just a toolbox. It features a lit, secure/lockable, durable and drainable storage system incorporated into the side rails of the truck tub. The AllSecure® remote security system allows remote locking and unlocking of the RamBox® as well as the rest of your RAM Truck with the push of a button. RamBox® vehicles come equipped with a cargo bed extender/divider, cargo bed rails with four adjustable tie-down cleats, as well as cargo box lighting.
Download Brochure
# Maximum braked towing capacity is subject to regulatory requirements and vehicle weight restrictions (which may require occupants and/or luggage to be restricted)
† Payload and kerb weight figures are based on vehicle certification. It is the driver's responsibility to ensure: weight of fully loaded vehicles do not exceed GVM; front and rear axle load limits are not individually exceeded; the combined weight of the fully loaded vehicle (including tow ball download when towing) and trailer does not exceed the GCM; compliance to State and Territory towing regulations. Payload is the combined value of occupants, luggage, cargo, added options, accessories and tow ball download (when towing). Kerb weight includes the vehicle with a full tank of fuel and all standard equipment, excluding occupants. Additional weights of optional features, occupants, luggage, cargo, accessories and tow ball download (when towing) must be taken into account when calculating payload.
Overseas models shown.